Crude Oil Prices Might Have Ran Too Far in Q3 Amid a Deteriorating China Outlook
Crude Oil, WTI, China – Q4 Top Trade Opportunity:
Crude oil prices

might have ran too far in Q3

Chinese imports tend to be a key driver of WTI

Might a slowing China pressure

oil

prices

?
Recommended by Daniel Dubrovsky
Download the complete selection of Q4 top trades
Crude Oil Prices Might Have Ran Too Far in the Third Quarter
Have crude oil prices ran too far in the third quarter, setting the stage for disappointment in the fourth? This analysis will be based on potential Chinese demand, ignoring other factors. According to data from the U.S. Energy Information Administration, China surpassed the United States as the world's largest crude oil importer back in 2017.
As such, you would expect Chinese oil demand to be a key driver of prices. Below is the historical relationship between overall Chinese imports and the price of crude oil since 1992. The data is quarterly, and I am analyzing changes from a year ago. Generally, it does appear to be the case that as Chinese imports rise, the price of crude oil seems to follow and vice versa (orange dots are after Covid).
The relationship is not perfect, but about 25 percent of the variation in oil prices can be explained by overall Chinese imports on average, ignoring all other factors.
With that in mind, we can use this data to estimate where crude oil might go in the fourth quarter. According to median Bloomberg estimates, Chinese imports are seen contracting -1.6% in Q4, likely a sign of weakening demand amid regional economic struggles. If true, plugging this information into the model spits out an estimated -6.8% year-over-year decrease for WTI (-14.7% to +1%, 95% confidence interval).
That would be the red dot on the chart below (and the red-shaded area immediately above & below the dot). Meanwhile, the blue dot represents how crude oil was performing in Q3 as of September 13th. As you can see, WTI's performance was better than what you would expect given the deterioration in Chinese imports. This means other factors propping up oil were likely afoot.
That said, these external factors may continue supporting crude oil ahead. The point of this analysis is to highlight that a weakening China will likely continue producing downward pressure for WTI, perhaps mitigating the extent it could rally in the next three months.
Recommended by Daniel Dubrovsky
What is the broader picture for oil prices in Q4?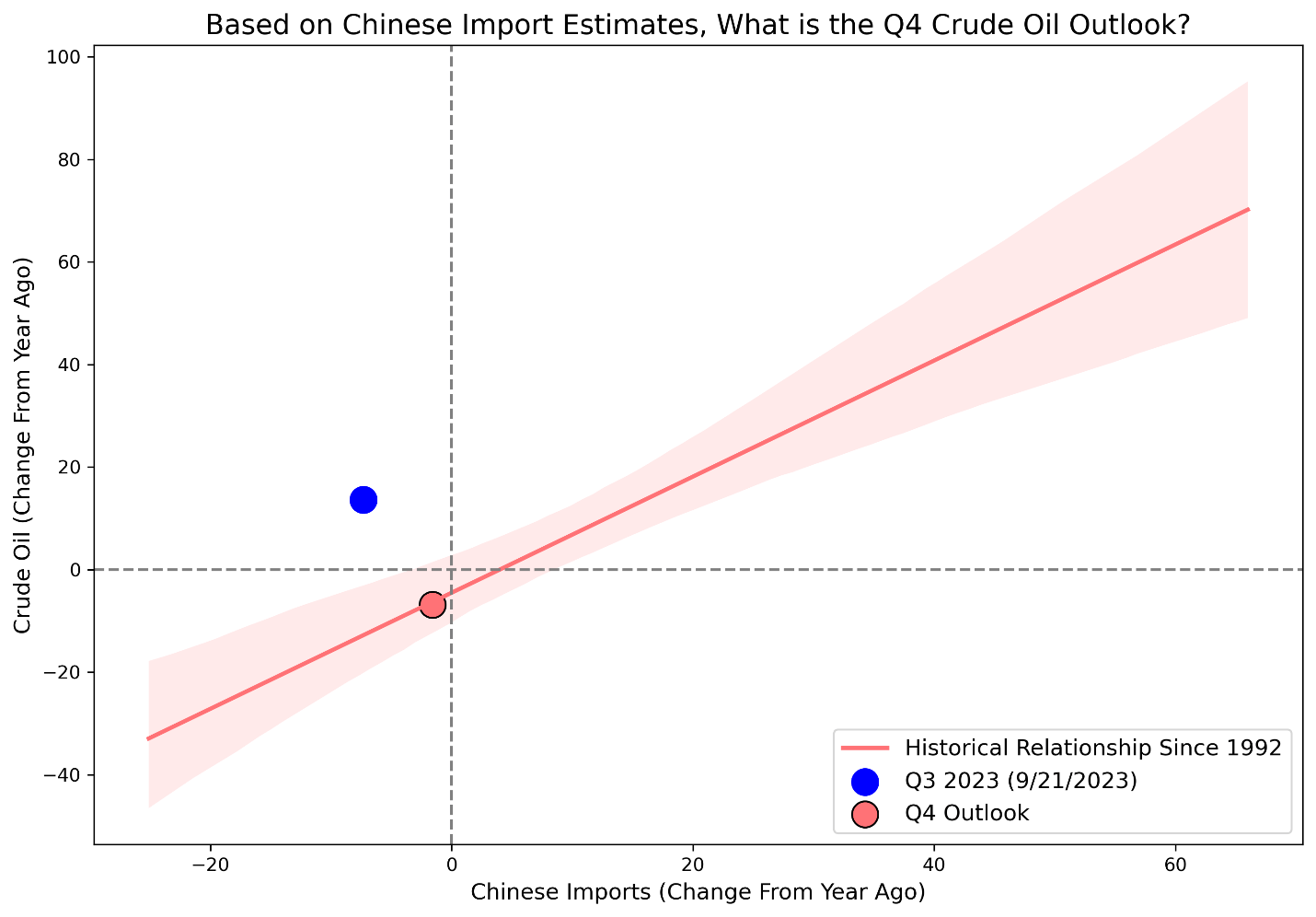 — Written by Daniel Dubrovsky, Contributing Senior Strategist for DailyFX.com

Source: www.dailyfx.com