Four Police Officers Go On Trial In Serbia Over 2008 Attack On U.S. Embassy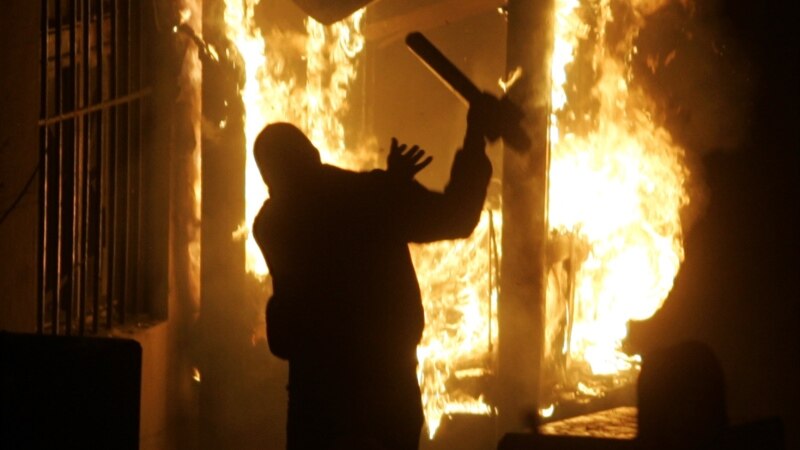 Azerbaijani President Ilham Aliyev hopes that a meeting later this week in Granada, Spain, will give impetus to the development of a peace agenda for Nagorno-Karabakh amid claims of continued violence in the breakaway region.
Aliyev expressed hope for the meeting on October 2 while receiving the spiritual head of the Anglican Church, Archbishop of Canterbury Justin Welby, at his residence.
Aliyev is scheduled to meet Armenian Prime Minister Nikol Pashinian on October 5 in Granada. The leaders of France, Germany, and the European Council are also expected to attend.
Aliyev again emphasized that Azerbaijan took the initiative for a peace treaty after Baku regained full control over Nagorno-Karabakh last month, and that historical opportunities have arisen in the region to advance the peace agenda.
The Azerbaijani president "touched on the efforts made by Azerbaijan to establish peace" in his conversation with Welby, the Azerbaijani news agency APA reported.
Aliyev's administration also issued a statement saying Armenian residents living in Karabakh "will be granted freedom of religion and the protection of their cultural and religious monuments will be ensured," according to the Azerbaijani news agency Trend.
"Regardless of ethnic, religious, or linguistic affiliation, equal rights and freedoms of everyone are guaranteed, including the safety of everyone," the statement said.
The moves came as the Armenian Defense Ministry said one of its soldiers was killed when Azerbaijani forces opened fire in a border region.
Azerbaijani forces shelled a vehicle belonging to Armenian forces carrying provisions for personnel, a statement said, adding that two other soldiers were wounded.
Azerbaijan rejected an earlier statement from the Armenian ministry about the incident, calling it false.
The Russian Defense Ministry said separately that a joint Russian-Azerbaijani patrol came under sniper fire in Nagorno-Karabakh. There were no casualties, a ministry statement said.
In Stepanakert (Xankendi), the capital of Nagorno-Karabakh, a fourth session of the closely watched "reintegration" talks was held between Azerbaijani officials and ethnic Armenian leaders of the breakaway region.
The Azerbaijani presidential administration announced a reintegraton plan that had been presented at three previous meetings last month.
The talks come two weeks after Azerbaijan routed Nagorno-Karabakh's ethnic Armenian forces in a 24-hour military campaign. Separatist authorities then agreed to dissolve their government by the end of this year, a bitter pill for Armenians who have made control of Nagorno-Karabakh a national priority.
Azerbaijani Interior Ministry spokesman Elshad Haciyev told AP on October 2 that the country's police had established control over the entire region and moved to "protect the rights and ensure security of the Armenian population in accordance with Azerbaijan's law."
Haciyev's statements came as the last bus carrying ethnic Armenians from Nagorno-Karabakh left the region, completing an exodus of more than 100,000 people.
The bus carried 15 passengers with serious illnesses and mobility problems, said Gegham Stepanian, Nagorno-Karabakh's human rights ombudsman. He called for information about any other residents who want to leave but had trouble doing so.
Although Baku pledged to respect the rights of ethnic Armenians after the military campaign, most of them fled the region fearing reprisals or the loss of the freedom to speak their language and practice their religion and customs.
The Armenian government said on October 2 that 100,514 of the region's estimated 120,000 residents had crossed into Armenia.
Health Minister Anahit Avanesyan said some people had died during the slow journey over a single mountain road into Armenia that took as long as 40 hours.
With reporting by AP