Russians Allowed To Take Part In Paris 2024 Paralympics As Individual, Neutral Athletes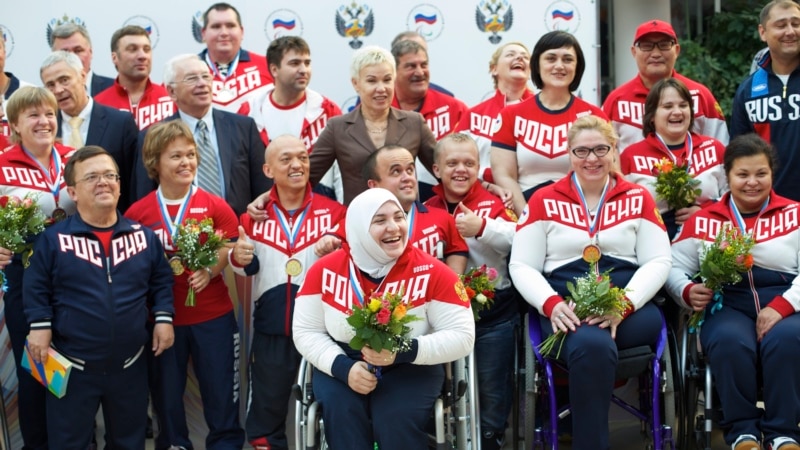 Thousands more people poured into Armenia from Nagorno-Karabakh on September 28, prompting Prime Minister Nikol Pashinian to accuse Azerbaijan of "ethnic cleansing" and warn that no Armenian will remain in the breakaway region following a lightning military offensive that gave Baku total control over the ethnic-Armenian populated territory.
Pashinian's spokeswoman, Nazeli Baghdasarian, said that a total of 76,407 people had entered Armenia from Nagorno-Karabakh as of 8 p.m. local time on September 28, amounting to more than half of the region's estimated 120,000 inhabitants.
"This is a direct act of ethnic cleansing that we warned the international community about," Pashinian told a government meeting on September 28, calling for concrete action by the international community.
"Statements condemning ethnic cleansing by various international players are important, but if they are not followed by concrete actions, these statements will be seen as creating moral statistics for history, so that in future different countries will have the opportunity to formally dissociate themselves from this crime, saying we have condemned it," said Pashinian.
WATCH: The journey out of the crisis-hit region can take days and many arrive exhausted and hungry. Armenian volunteers are doing what they can to provide relief to the tens of thousands of displaced people who have flooded into the country since Azerbaijan launched an attack on Nagorno-Karabakh on September 19.
Pashinian added that if the trend continued, no ethnic Armenians will be left in Karabakh in the coming days.
Baku has denied accusations of ethnic cleansing and said it wants to "reintegrate" the enclave's ethnic Armenian population into Azerbaijan.
Azerbaijan's Foreign Ministry on September 28 urged ethnic Armenians to remain in Nagorno-Karabakh.
"We call on Armenian residents not to leave their homes and become part of Azerbaijan's multi-ethnic society," the ministry said in a statement.
Russia, which used to be Armenia's main military backer but has been criticized by Yerevan for its peacekeepers' failure to prevent the fall of Nagorno-Karabakh, said fleeing Armenians had nothing to fear.
"It's difficult to say who is to blame [for the exodus]. There is no direct reason for such actions," Kremlin spokesman Dmitry Peskov said in an apparent rejection of Armenia's claims of ethnic cleansing.
"People are nevertheless expressing a desire to leave…. Those who made such a decision should be provided with normal living conditions," Peskov added.
WATCH: Thousands of ethnic Armenians from Nagorno-Karabakh have flooded into the border town of Goris after enduring an arduous journey out of the the crisis-hit region. RFE/RL spoke with refugees in Armenia who said they left everything behind and hadn't eaten in days.
The exodus began after Azerbaijan opened the only road leading from Karabakh to Armenia four days after a cease-fire agreement that ended the September 19-20 Azerbaijani military operation which gave Baku complete control over the region.
Armenia and Azerbaijan have fought two wars in the last three decades over the region, which had been a majority ethnic Armenian enclave within the internationally recognized border of Azerbaijan since the Soviet collapse.
The region initially came under the control of ethnic Armenian forces, backed by the Armenian military, in separatist fighting that ended in 1994. During a war in 2020, however, Azerbaijan took back parts of Nagorno-Karabakh along with surrounding territory that Armenian forces had claimed during the earlier conflict.
The U.S. ambassador to the Organization for Security and Cooperation in Europe (OSCE) said ethnic Armenians in Nagorno-Karabakh should be able to remain in their homes with respect for their rights and security, if they choose, and those who leave and return should be allowed safe passage overseen by a neutral, independent third party.
"We would expect that those Nagorno-Karabakh residents who depart for Armenia would be able to return freely to their homes once it is safe to do so," Ambassador Michael Carpenter told an OSCE Permanent Council meeting in Vienna.
He also said Azerbaijan has a responsibility to protect civilians and to ensure the humane treatment of all, including those it suspects of being combatants.
Carpenter reiterated a call for an independent international mission to provide security in the region and called for unhindered access for international humanitarian organizations.
As the exodus continued, sparking more fears of a major humanitarian crisis, the de facto leader of Nagorno-Karabakh said the self-styled separatist entity will cease to exist as of January 1.
Samvel Shahramanian said the move was prompted by the situation created after Azerbaijan's taking complete control of the region. His decree mentioned a cease-fire agreement reached last week to end the fighting under which Baku pledged to permit the "free, voluntary, and unrestrained passage" of Nagorno-Karabakh's ethnic Armenian residents, including "servicemen who have laid down arms."
That fighting ended with a Russian-brokered cease-fire and the deployment of Russian peacekeepers. Those peacekeepers did little, however, to prevent the advances by Azerbaijani forces.
As concerns over the humanitarian situation in the region grew, U.S. State Department spokesman Matthew Miller said Washington would work with allies and partners on an international monitoring mission.
With reporting by AP, AFP, and Reuters