Shapps Becomes U.K. Defense Minister With Vow To Maintain Support For Ukraine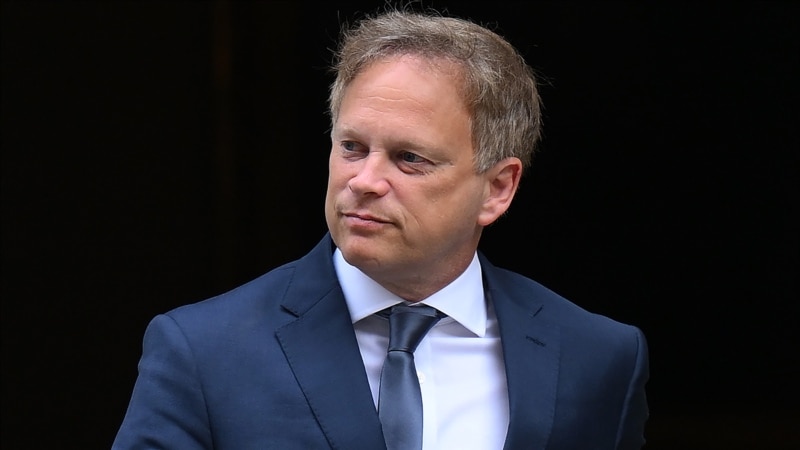 Iranian journalist Nazila Marofian, who was released from prison two weeks ago, has been arrested again on as officials continue to clamp down on activists ahead of the first anniversary of the death of Mahsa Amini next month.
The Tasnim News Agency, which is close to the Islamic Revolutionary Guards Corps, reported that Marofian was arrested on August 30 through an order from the judiciary's "Guidance Court" on charges of "promoting indifference toward religious fundamentals."
Tasnim added that "inappropriate attire in public and disseminating images of this on social media" are among the reasons cited by the Guidance Court for her arrest.
According to reports received by RFE/RL's Radio Farda, Marofian was detained at her home, with security forces using force during her arrest.
This marks the fourth time in the past year that the outspoken journalist has been detained.
Marofian was initially arrested by security forces on November 29, 2022, following the publication of an interview with Amjad Amini, the father of the 22-year-old woman whose death in September 2022 sparked widespread protests across the country.
Mahsa Amini was in police custody at the time of her death for allegedly wearing a head scarf improperly.
Before her most-recent detention, Marofian had expressed support for Mehdi Yarrahi, the Iranian protest singer. Addressing Yarrahi, Marofian wrote on X, formerly Twitter: "My dear Mehdi Yarrahi, the path of my journey is the very message at the beginning of your magnificent song."
Yarrahi was arrested on August 28 following the release of the song Your Head Scarf, which was accompanied by a video showing women in various social settings without their heads covered, some dancing to the music. He dedicated the song to the "brave women of Iran who shine courageously at the forefront of the 'Women, Life, Freedom' movement."
Marofian, who had previously shared a photo without wearing the compulsory hijab on X right after her release, has been a vocal critic of the Iranian government.
In February 2023, she was sentenced by the Revolutionary Court for publishing the interview, even though she did not receive a proper court hearing and was not allowed to mount a defense.
Since Amini's death, Iranians have flooded onto the streets across the country to protest against a lack of rights, with women and schoolgirls making unprecedented shows of support in the biggest threat to the Islamic government since the 1979 revolution.
The U.S.-based Human Rights Activists News Agency said that at least 527 people had been killed during the unrest, including 71 minors, as security forces muzzle dissent.
Written by Ardeshir Tayebi based on an original story in Persian by RFE/RL's Radio Farda