Ukrainian Military Says Odesa Port Hit In Major Russian Attack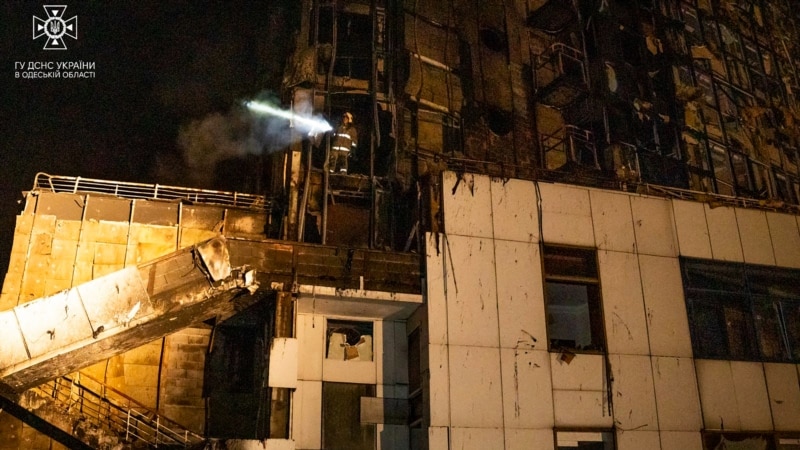 Armenian Prime Minister Nikol Pashinian has told his Caucasus nation on the heels of a bruising defeat for allies in a breakaway region of Azerbaijan that while Baku and Russian peacekeepers bear responsibility for protecting ethnic Armenians there, if necessary his government "will welcome our brothers and sisters of Nagorno-Karabakh to Armenia with all care."
Yerevan reported on September 24 that the first several hundred refugees from the region had begun arriving in Armenia, with Nagorno-Karabakh leaders indicating that nearly all of the estimated 120,000 ethnic Armenians are likely to leave for the Caucasus nation's territory as soon as possible, saying they did not want to live under Azerbaijani control.
Meanwhile, Armenia's Security Council said Pashinian would conduct previously arranged talks with Azerbaijani President Ilham Aliyev in Grenada, Spain, on October 5, with French President Emmanuel Macron, German Chancellor Olaf Scholz, and EU chief Charles Michel also participating.
In a televised address to his nation of around 3 million, Pashinian also seemingly delivered a barb to Russia and Moscow-led efforts at regional security.
"The attacks carried out by Azerbaijan against the Republic of Armenia in recent years lead to an obvious conclusion that the external security systems in which we are involved are not effective from the point of view of the state interests and security of the Republic of Armenia," Pashinian said.
Pashinian and many Armenians blame Russia — which traditionally has served as Armenia's protector in the region — for failing to use its peacekeeping force to protect ethnic Armenians in Karabakh.
Armenia is a member of the Collective Security Treaty Organization (CSTO), which Russia has tried to position as a counterweight to NATO, although as recently as this month its armed forces were conducting exercises with U.S. forces.
Pashinian has been on rocky political footing since overwhelming Azerbaijani forces retook much of the territory in and around Nagorno-Karabakh held for decades by ethnic Armenians in a six-week war in late 2020 that led to a Russian-brokered cease-fire.
Then this week the breakaway leadership in Nagorno-Karabakh was thrashed by a lightning Azerbaijani offensive that led Baku to declare victory in returning its sovereignty to the territory.
Around the time Pashinian was addressing the nation on September 24, an adviser to the defeated leadership in Nagorno-Karabakh said virtually all of the territory's ethnic Armenians will leave for Armenia in a bitter exodus from "our historic lands."
Davit Babayan, an adviser for foreign policy to the separatist government's de facto leader Samvel Shahramanian, told Reuters on September 24 that "Our people do not want to live as part of Azerbaijan. Ninety-nine point nine percent prefer to leave our historic lands."
He said nothing of a time frame and there was otherwise no official position on a possible mass exodus.
Calls have increased in urgency for humanitarian help from the United Nations and the international community since the ethnic Armenian separatists agreed to a Russian-brokered cease-fire after a 24-hour blitz by Azerbaijani military forces on September 19-20.
Baku has repeatedly vowed to ensure the rights of what ethnic Armenians say is around 120,000 locals but the Azerbaijani side says is around half that figure.
"The fate of our poor people will go down in history as a disgrace and a shame for the Armenian people and for the whole civilized world," Babayan said. "Those responsible for our fate will one day have to answer before God for their sins."
Azerbaijan again signaled victory in Nagorno-Karabakh while Armenia urged international help to ensure the safety of the local ethnic Armenian population in competing speeches before the United Nations General Assembly, as evacuation and disarmament efforts continue.
Russia's foreign minister, Sergei Lavrov, meanwhile used his UN appearance to say the two post-Soviet foes have "put things in order" and now it's time to build "mutual trust."
The trio of September 23 speeches came as the Yerevan-backed separatists said they were implementing the terms of the days-old cease-fire but concerns continued over the safety of tens of thousands of ethnic Armenians in the territory and with evacuations of the wounded under way.
Azerbaijan and Armenia's foreign ministers struck opposing tones in their speeches to the UN forum.
Azerbaijani Foreign Minister Ceyhun Bayramov hailed the success of his country's September 19-20 military campaign in Nagorno-Karabakh, which is internationally recognized as Azerbaijani territory, as achieving the "goals of anti-terrorist measures."
"Armenia and its subordinate illegal regime were forced to agree to disarmament, liquidation of all so-called structures and withdrawal of forces from Azerbaijan," Bayramov said.
In his speech to the UN General Assembly several hours later, Armenian Foreign Minister Ararat Mirzoyan lamented Yerevan's repeated calls for greater UN activity to break a nine-month-long de facto Azerbaijani blockade of the region before the latest offensive.
Armenia's government has distanced itself from the latest cease-fire mediated by Russia's peacekeeping force in Nagorno-Karabakh on September 20, with daily protests targeting Pashinian and his government.
Mirzoyan accused much larger neighbor Azerbaijan of pursuing a "path of war" and disregarding accepted international principles.
He said the message from Azerbaijan has been that "you can talk about peace, but we can go on the path of war, and you will not be able to change anything."
Mirzoyan said the latest casualty toll of this week's Azerbaijani actions were "more than 200 confirmed dead and 400 wounded, including civilians, women, and children." He said the fates of hundreds more remained "uncertain."
He also repeated Yerevan's "imperative" call for a UN mission in Nagorno-Karabakh "to monitor and assess the human rights, humanitarian and security situation on the ground, "with "unhindered access."
Armenia's Health Ministry announced on September 24 that ambulances were transporting 23 seriously injured individuals from Nagorno-Karabakh to Armenian territory.
RFE/RL reporters said the first refugees from Nagorno-Karabakh had arrived at a humanitarian aid facility in the border village of Kornidzor on September 24. Photos showed men, women, and children gathered around Red Cross tents and other receiving areas.
Separatist authorities said Russian peacekeepers would accompany those wishing to leave the region and go to Armenia.
The Armenian government said more than 1,000 people have had arrived in the country from Nagorno-Karabakh by late September 24.
In his speech to the General Assembly on September 23, Russia's Lavrov said "the time has come for confidence-building measures between Armenia and Azerbaijan in Nagorno-Karabakh."
He said Russia's peacekeepers would assist, and he accused Western governments of inserting themselves unnecessarily in the Caucasus.
Lavrov said that "Yerevan and Baku actually put the situation in order."
Nagorno-Karabakh's ethnic Armenian separatist leaders said on September 23 said they were implementing the cease-fire, including evacuations of injured civilians to Armenia with the help of Russian peacekeepers and the International Committee of the Red Cross (ICRC).
The separatists said that, as part of the September 20 agreement, aid was to be delivered from Armenia to Stepanakert — the de facto capital of the breakaway region under ethnic Armenian control — through the Lachin Corridor, for decades the main link between Karabakh and Armenia.
Also as part of the agreement, separatists said, talks would take place on "the political future" of the region, which is suffering from shortages of food, fuel, and electricity.
Russian peacekeeping forces in Nagorno-Karabakh reported that Karabakh separatists had already handed over more than 800 firearms, grenades, mortars, anti-tank guided missiles, and anti-tank missile systems, and the disarmament process would continue over the weekend.
U.S. Democratic Senator Gary Peters, who is leading a congressional delegation to the Armenia-Azerbaijan border, called for international observers needed to monitor the situation and said people in Karabakh were "very fearful."
"I am certainly very concerned about what's happening in Nagorno-Karabakh right now. I think there needs to be some visibility," Peters told reporters.
Azerbaijan has vowed to protect the rights of civilians there.
The offensive was halted on September 20 after Karabakh's ethnic Armenian leadership accepted a proposal by the Russian peacekeeping mission, although sporadic fighting has been reported.
Baku has said it envisages an amnesty for Karabakh Armenian fighters who give up their arms and seeks to reintegrate the territory's ethnic Armenian population. Some separatist fighters have vowed to continue to resist Azerbaijani control.
France's Macron on September 24 said Paris is now concerned about the territorial integrity of Armenia after Azerbaijan's military took control of Nagorno-Karabakh.
"France is very vigilant at this time concerning the territorial integrity of Armenia. Because that is what's at stake," Macron told a TV interview, adding that Russia was now "complicit" with Baku and that Azerbaijan is "threatening the border of Armenia."
Although Armenia traditionally has close ties to Russia, many Western nations — including France and the United States — have large ethnic Armenian populations and watch developments there closely.
U.S. Secretary of State Antony Blinken told Pashinian in a phone call on September 23 that Washington continues to support Armenia's "sovereignty, independence, and territorial integrity" and that it has "deep concern for the ethnic Armenian population in Nagorno-Karabakh."
During a short but bloody war in 2020, Azerbaijan recaptured much of Nagorno-Karabakh as well as seven surrounding districts that had been controlled since the 1990s by ethnic Armenians with Yerevan's support.