Zelenskiy Unveils Defense Industries Alliance To Boost Military Manufacturing Might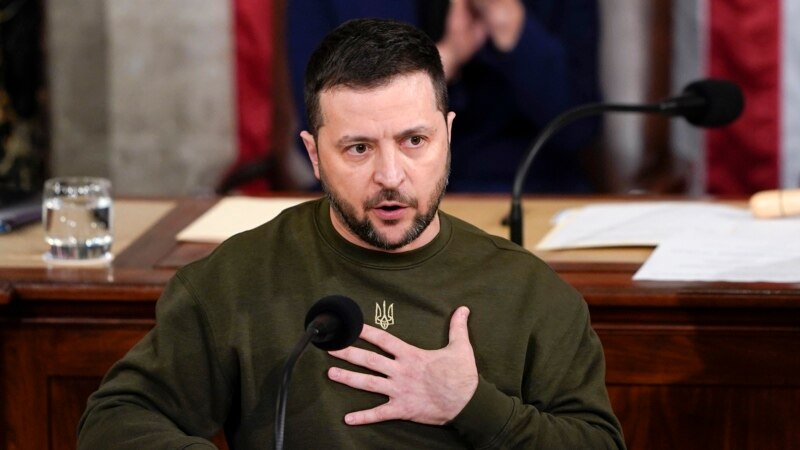 The United Nations will send a mission to Nagorno-Karabakh this weekend, a UN spokesman said after Azerbaijan invited UN agencies to visit the region to monitor the situation there as an exodus of ethnic Armenians continued on September 29.
The mission will mainly assess humanitarian needs, UN spokesman Stephane Dujarric said, adding that the body had not had access to the region "in about 30 years."
"The government of Azerbaijan and the UN have agreed on a mission to the region. The mission will take place over the weekend," he told reporters.
The Azerbaijani Foreign Ministry said earlier in a statement that the UN agencies had been invited to send a mission "to become acquainted with the current humanitarian activities being carried out by Azerbaijan in the region."
The ministry said the group members would also be shown "the process of rebuilding certain infrastructure, disarmament, and confiscation of ammunition from illegal Armenian armed forces, as well as the dangers posed by mines."
The announcements come 10 days after a lightning military offensive that gave Azerbaijan complete control over its breakaway region.
The United States and others have called on Baku to allow international monitors into Nagorno-Karabakh amid concerns about possible human rights abuses and to ensure the delivery of humanitarian aid.
The UN World Food Program has already set up tents in Goris to help provide meals to the refugees, and representatives of Nagorno-Karabakh's ethnic Armenian population and Azerbaijani officials also met for the third time since September 19 in the western Azerbaijani city of Yevlax. The sides again discussed humanitarian issues and the reintegration of ethnic Armenians into Azerbaijani society.
Armenia's government estimated that nearly 93,000 Armenians — more than three-quarters of the population of Nagorno-Karabakh — had crossed onto its territory as of 4 p.m. local time on September 29.
Armenian Prime Minister Nikol Pashinian has accused Azerbaijan of "ethnic cleansing" and warned that no Armenian will remain in the breakaway region in the following days.
"This is a direct act of ethnic cleansing that we warned the international community about," Pashinian told a government meeting on September 28, calling for concrete action by the international community.
WATCH: Armenian volunteers are doing what they can to provide relief to the tens of thousands of displaced people who have flooded into the country since Azerbaijan launched an attack on Nagorno-Karabakh on September 19.
Baku has denied accusations of ethnic cleansing and said that it wanted to "reintegrate" the enclave's ethnic Armenian population into Azerbaijan.
Azerbaijani President Ilham Aliyev said on September 29 that it's time for teams from Azerbaijan and Armenia to sit down and work on a draft peace agreement.
"I think that after September 20, when Azerbaijan restored its sovereignty, it will be easier to find a solution and sign a peace treaty as soon as possible," Aliyev said.
He also said Azerbaijan recognizes the territorial integrity of Armenia and has no intention of continuing what he called the "anti-terrorism measures" against Nagorno-Karabakh.
Yerevan considered it alarming that Baku did not publicly recognize the territorial integrity of Armenia after the cessation of hostilities in Nagorno-Karabakh on September 21.
Azerbaijan's Foreign Ministry on September 28 urged ethnic Armenians to remain in Nagorno-Karabakh despite reports of detentions of former leaders of the breakaway region's de facto armed forces.
Sources close to ethnic Armenian de facto authorities in the region confirmed to RFE/RL on September 29 reports that Azerbaijani officials detained Levon Mnatsakanian, a former commander of Nagorno-Karabakh's separatist armed forces, at a border checkpoint with Armenia.
In addition, Azerbaijan's State Security Service (DTX) said on September 29 it had detained Davit Manukian, former deputy commander of the breakaway region's de facto armed forces, on "terrorism" charges. Two days earlier, Azerbaijan arrested the former de facto prime minister of Nagorno-Karabakh, billionaire Ruben Vardanian.
WATCH: RFE/RL spoke with refugees in Armenia who said they left everything behind and hadn't eaten in days.
The de facto Internal Affairs Ministry in the breakaway region said on September 29 that the remains of 170 people have been found at the site of an explosion at a fuel depot, which occurred on September 25 as people sought to fuel their vehicles in order to leave the region. The remains are being transferred to laboratories for medical examination, the ministry said.
The official confirmed that the death toll stands at 68, with more than 290 injured. The cause of the blast has not been determined.
Russia, which used to be Armenia's main military backer but has been criticized by Yerevan for its peacekeepers' failure to prevent the fall of Nagorno-Karabakh, said fleeing Armenians had nothing to fear.
"It's difficult to say who is to blame [for the exodus]. There is no direct reason for such actions," Kremlin spokesman Dmitry Peskov said in an apparent rejection of Armenia's claims of ethnic cleansing.
"People are nevertheless expressing a desire to leave…. Those who made such a decision should be provided with normal living conditions," Peskov added.
Armenia and Azerbaijan have fought two wars in the last three decades over the region, which had been a majority ethnic Armenian enclave within the internationally recognized border of Azerbaijan since the Soviet collapse.
The region initially came under the control of ethnic Armenian forces, backed by the Armenian military, in separatist fighting that ended in 1994. During a war in 2020, however, Azerbaijan took back parts of Nagorno-Karabakh along with surrounding territory that Armenian forces had claimed during the earlier conflict.
That fighting ended with a Russian-brokered cease-fire and the deployment of Russian peacekeepers. Those peacekeepers did little, however, to prevent the advances by Azerbaijani forces.
With reporting by AP, AFP, and Reuters